LSI Keywords and Their Usefulness to Bloggers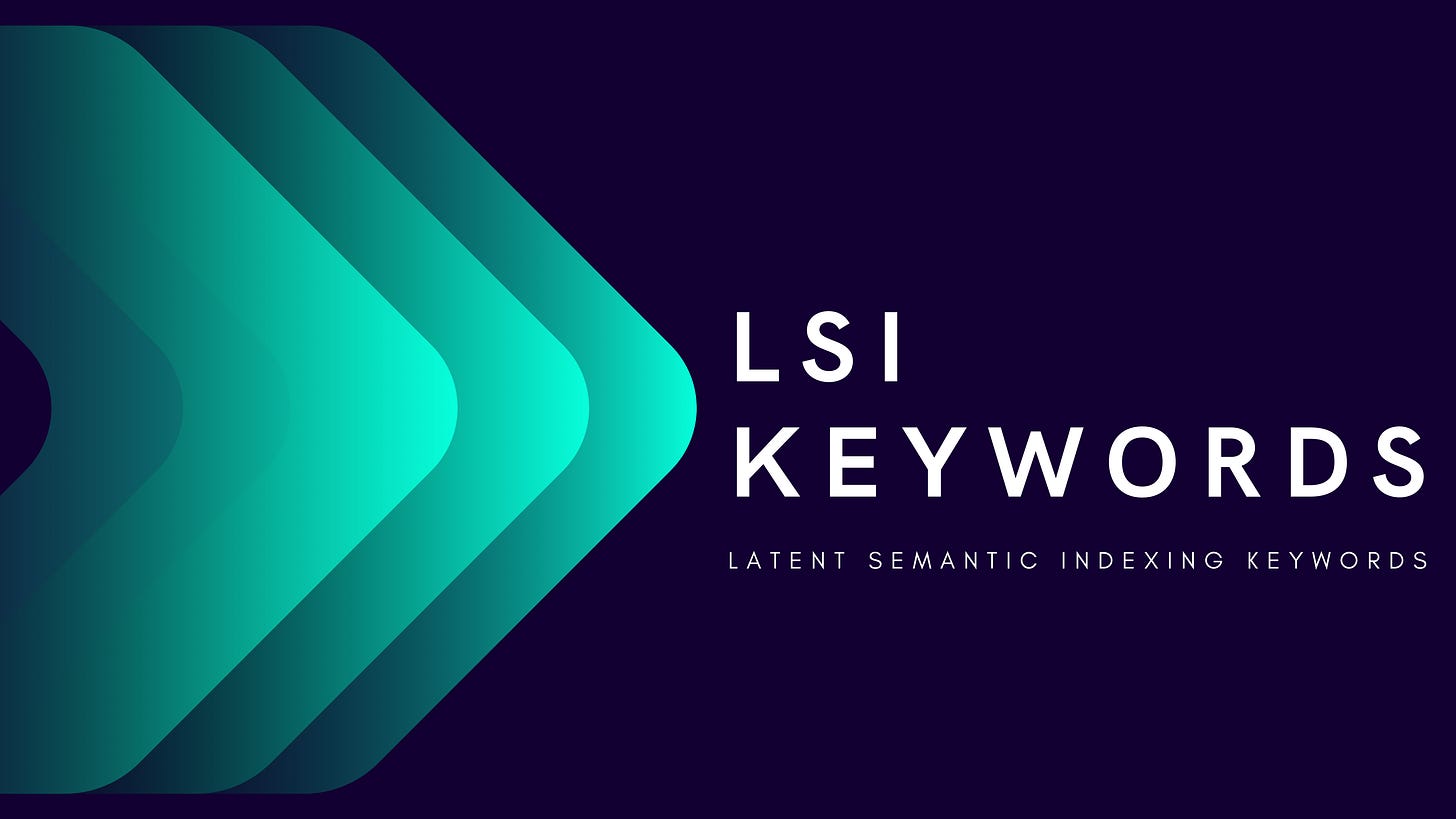 There are several different type of keywords making up the SEO world. If you are a blogger who has dabbled a bit in search engine optimization (SEO), you would have probably heard about primary keywords, short tail, and long tail keywords, as these take up most attention.
But what about latent semantic indexing or LSI keywords?
This is a term that is lesser known within the online marketing and SEO community. Yet, LSI keywords are highly important to any SEO strategy and should not be overlooked. In this article, you will learn about what latent semantic index keywords are, why it is a good idea to use them in your blog posts, and how they can be identified.
---
What are LSI keywords?
Different people using a search engine to look for the same product or service will type in varying keywords. For example, someone seeking a place to rent may search for "unfurnished room for rent" or "one bedroom apartment for rent." Someone else may use "available flat for rent" or "apartment renting" or even "houses I can lease."
These are all different phrases, but they will likely produce the same or similar search engine results because they are all related to one thing: finding a place to rent. That's pretty much what latent semantic indexing is. It refers to the various words and phrases that are semantically linked to a primary keyword based on the context they are used in and how they are arranged in a piece of content.
Used correctly, LSI keywords help users to get better search results in response to search engine queries. They also help search engines to better identify and rank content based on related terms shown in it.
Special algorithms are used by Google, for example, to scan pieces of content on the web to find popular phrases, words, related terms, and even synonyms to determine semantic links. LSI is not about stuffing keywords in a document. Doing that will still result in penalties. Instead, using LSI correctly has to do with good writing. It means having a good vocabulary and understanding how your target audience thinks.
---
Why should bloggers care about LSI?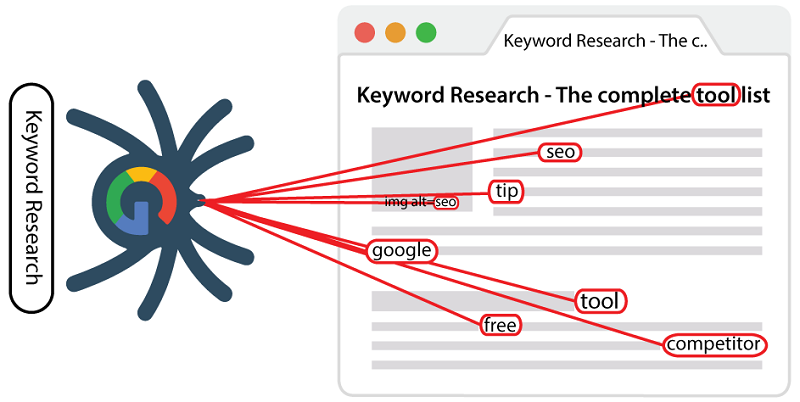 The simple answer is traffic.
Gone are the days when marketers were obsessed over a single keyword in an effort to get good rankings. Today, the key to crafting amazing content is context. And for good reason: over 15% of Google's daily searches are new terms that users have never searched before. And with trillions of searches being conducted every year, that adds up to a lot of new queries.
Google directs users to the best possible content related to the search terms they type in. This means the pieces of content that best matches with what people are searching for, will get the most traffic. If you spend time researching and adding the right LSI phrases to your content, Google will see that your content captures much of what your intended readers are interested in, and show it to them, thereby boosting traffic to your blog.

Users consuming your content will find it to be more credible and relevant to their needs as well because LSI keywords zoom in on their personal needs. This could also reduce bounce rate since readers may be more tempted to read to the end.
---
How can bloggers identify LSI keywords?
Regardless of how well you write and the extent of your vocabulary, however, finding suitable LSI keywords can still be difficult. There are some pretty sophisticated and thorough keyword research tools available to you. Whether you use a paid tool, Yoast plugin or another SEO tool, you can easily find a bunch of results for keywords you want to target, as well as LSI phrases that may be useful. But there is a simpler way to find LSI keywords – by searching for your main keyword on Google.
The point of LSI is to find words and phrases that people use in everyday language and which they are likely to type in when searching online. Searching for "10 best Starbucks coffee shops near me," for instance, will likely also display terms such as "coffee shops close by" or "Starbucks in [name of town]."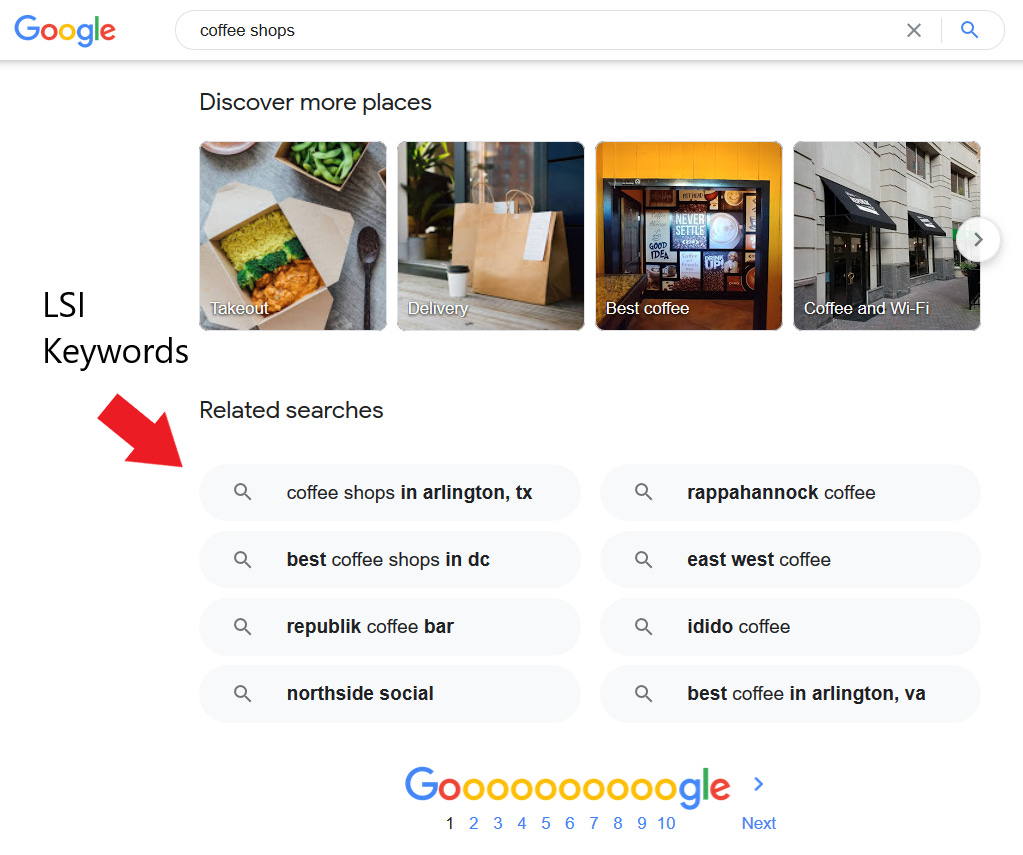 With Google leaning towards natural language, the search engine can give valuable insight into related phrases people in your target audience may be using. Moreover, when you search for a keyword on Google, there is a section at the bottom of the page that shows related search terms. These are also semantically linked to the keyword you typed in and can be used in your blog post or other content to show that you are speaking the language of your audience.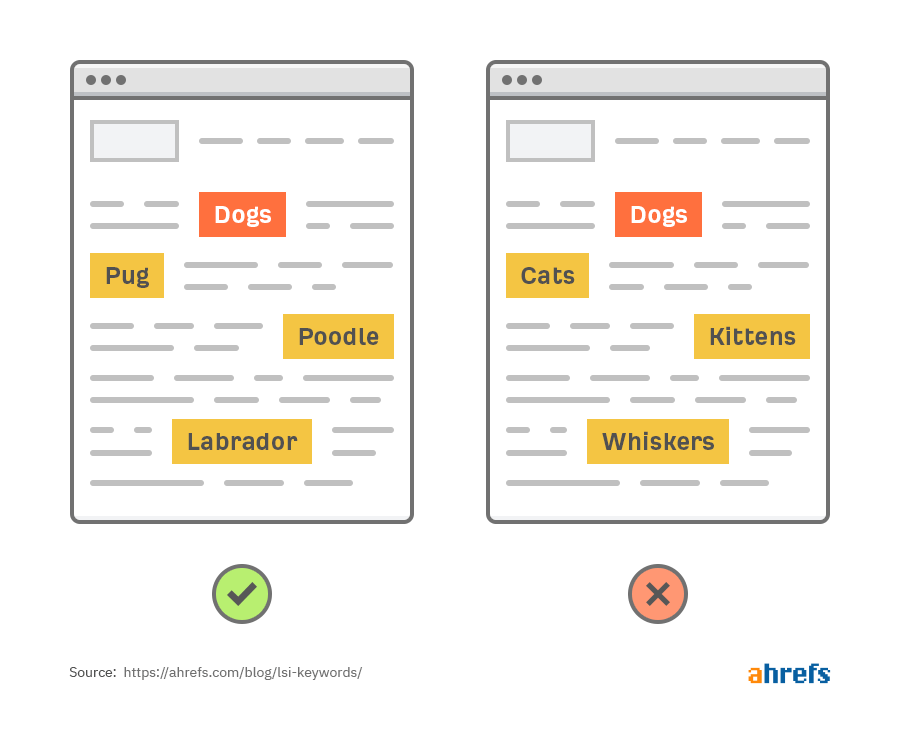 It is also a good idea to check for LSI keywords in your already written work. If you tend to write in a natural, conversational way, you may automatically use synonyms and related words that may be semantically linked to your target keyword. Of course, you probably won't find many if you have never focused on LSI before, but determining the existence of such keywords, or if there are any at all in your content, will help you figure out which other LSI terms you should add to make your older posts more SEO friendly.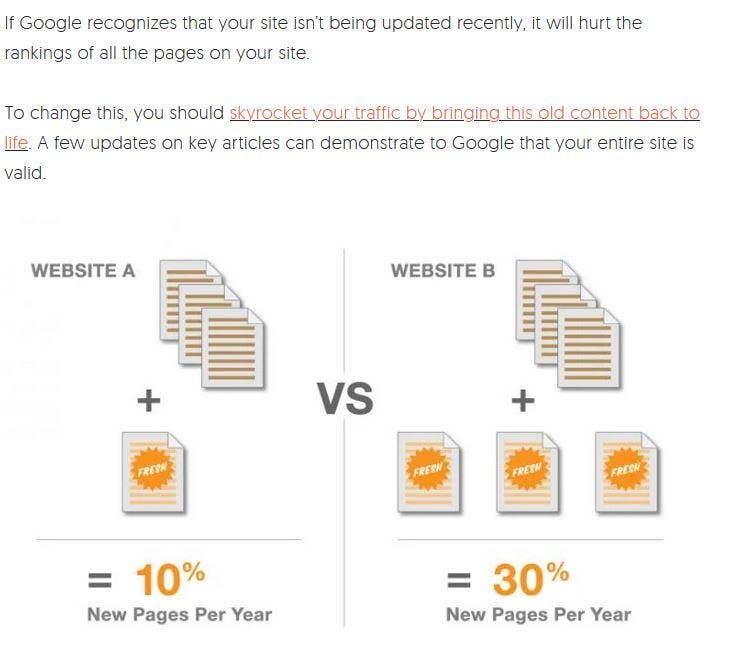 Moreover, updating older articles is great because Google gives preference to content that is constantly being updated. Adding new details or re-writing tells the search engine that the work is still relevant in accordance with the changing needs of consumers.
LSI keyword tools
If Google search results are not precise enough to generate the LSI keywords you are searching for, you can check out some of these extremely useful (and free) LSI keyword generators.
LSI Graph
LSI Graph is a free LSI Keyword Generator that helps you quickly find all the terms related to your primary keyword. Simply type in your page's main keyword and you'll get a list of LSI terms to choose from.
Serpstat
Serpstat is yet another effective tool that helps you find semantically related phrases for your posts. Simply enter your main keyword and click SEO Research > Related Keywords. You will be presented with a long list of words and phrases to choose from.

Of course, there are many other related keyword finders out there, including Ahrefs and Moz SEO tools. These are great because they not only provide you with a comprehensive list of related keywords that people typically search for on the topic, but they also allow you to filter the words and phrases by connection strength, search volume, and cost per click.
Now that you know how to find LSI keywords using free keyword research tools, let's look at the best ways to use them in your content and SEO strategy.
Key Word Keg
Keyword Keg's Related & PASF tools are LSI keyword generators. They bulk scrapes the Google SERPs for related keywords as well as "people also ask for" keywords. These are keywords that are either very close to your main seed keyword, or other keywords that your audience is searching for when they are searching for your seed keyword.
---
Choosing suitable LSI keywords
Depending on your main keyword and target audience, you can end up with a lot or very few LSI keywords. The trick is to select the right ones and using them properly in your blog posts. This requires you to really think about your ideal customer/reader and what is important to them.
Focus on the context: Not all LSI keywords will be relevant to the needs of your target audience, even though they may relate to your target keywords. For example, if you write a bog post about taking care of apple plants, you may come across LSI terms such as "apple tree treatment," "apple tree fertilizer,: and "types of apple trees." These are all great and can be used in your article. However, you may also come across phrases such as "apple store" or "apple production plant." Clearly these – although related to the word "apple" – would not be of any use to your target audience, who are probably interested in growing apple trees. With that said, if the context of an LSI phrase is not straightforward or vague, it might be best to leave it out of your article.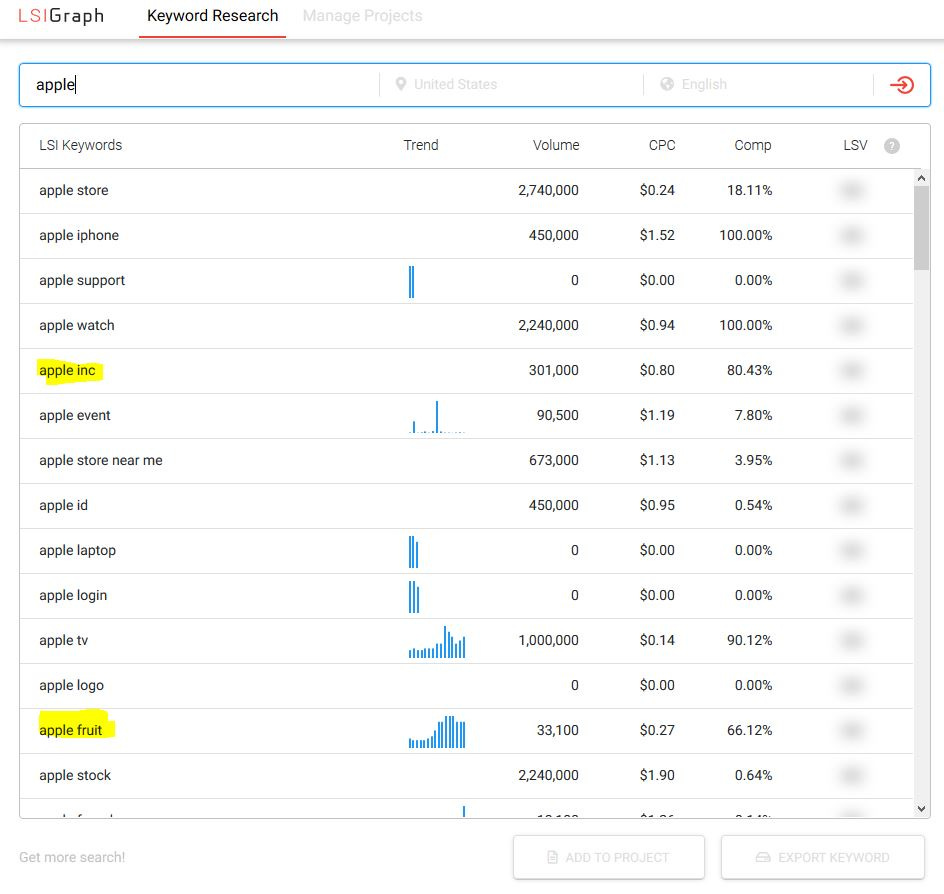 Understand your audience's intention: Based on the purpose of your blog, your readers will have one or more intentions when looking for your content online. If your blog is about helping people accomplish something transactional such as signing up for a course or joining a mailing list, your LSI keywords should be geared towards helping them achieve that goal. On the other hand, if your content is geared towards helping readers get general information or learning the steps of how to do something (such as a tutorial), the LSI terms to use would be of an instructional nature.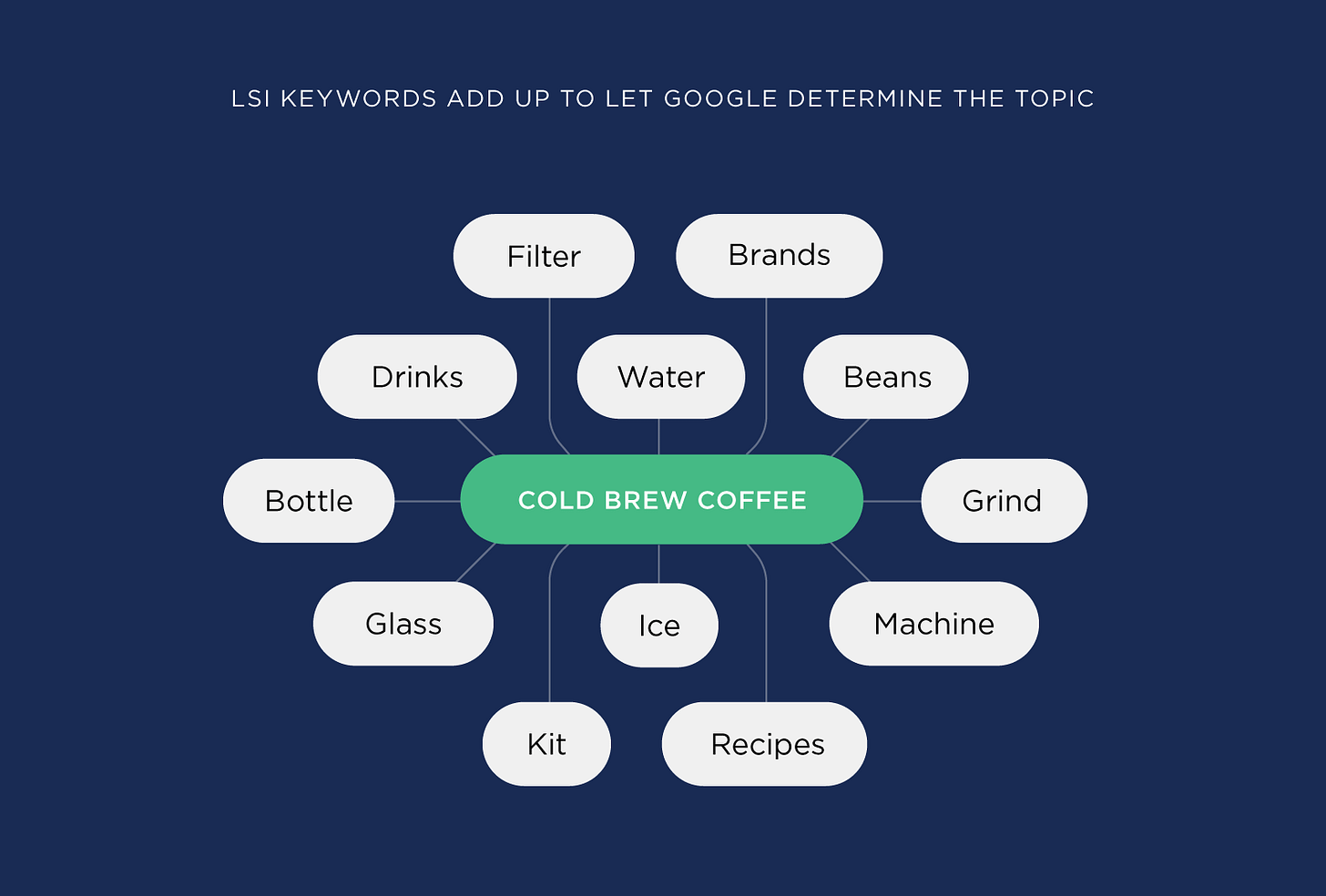 Whatever the case, figuring out which LSI keywords to use may seem confusing at first, but will get better over time the more you do it.
---
Takeaway
Incorporating LSI keywords into your content boosts the contextuality of your content and yields SEO benefits:
They boost your website's ranking in search engines: Sprinkling LSI keywords throughout your text helps search engines to understand your page and boost its ranking power.

Semantic keywords improve your content's relevance: Adding related words also helps to ensure you don't overload your content with keywords, aka keyword stuffing.

Related words increase the number of people who find your content: LSI keywords also help you provide a better search experience for users, which, in turn, translates into improvements in various ranking factors, such as time spent on a page, bounce rate, and more.
As a blogger, making SEO work for you is one way to pull in more readers. Including LSI keywords in your content marketing strategy can help to bring you better results, over time.
---
Until next time!
Casey
If you found this content useful, and want to learn more about achieving success through writing online, subscribe to this newsletter. You will receive access to valuable premium articles, our custom digital downloads and eBooks ($300 value), and media contact lists ($200+ value), for free!
Thank you for your support! It truly means the world to me! Please let me know if you have any questions by responding in the comments section below. I will do my best to answer all of them.