Discover more from Blogging Guide
Learn how to make money writing online, navigate the digital publishing landscape, and join the creator economy! • Medium • Substack • Blogging • Newsletters • Digital Marketing
Over 12,000 subscribers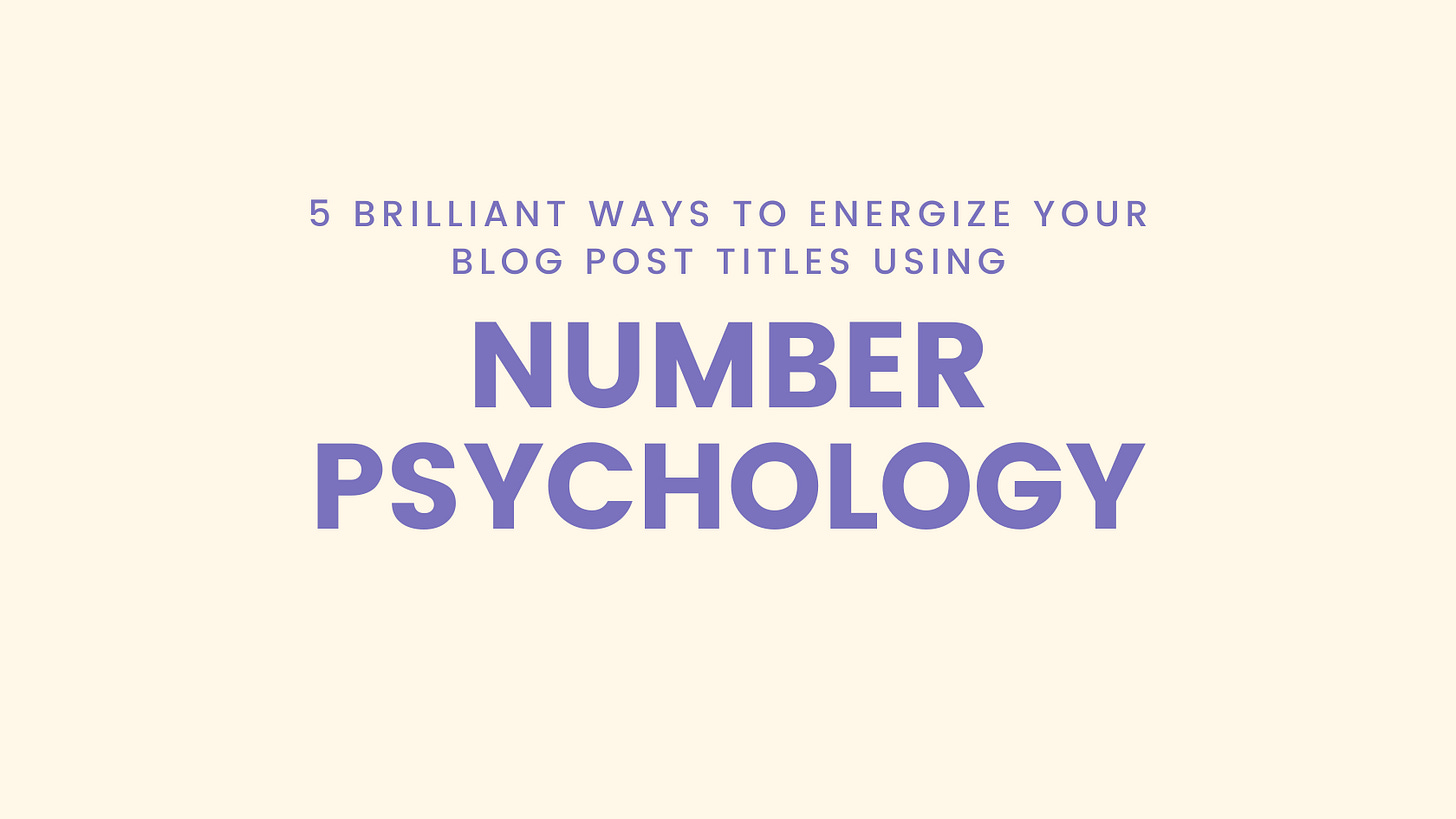 Number psychology isn't an exact science, and neither is great headline writing. But, strategically implementing what you've just learned will make your headlines more compelling.
---
1. Use extremely small or large numbers as exaggerators
You can write compelling headlines that strengthen the appeal of a benefit by implying additional benefits through the use of numbers. Example:
Today's Healthy Recipe: 3 Ingredient Berry Smoothie
The explicit benefit expressed here is a new healthy snack idea.
There is also the implied benefit that this smoothie is easy to make.
That small number of ingredients impacts your impression of the benefit. Instantly, you anticipate a new, healthy, and simple smoothie recipe.
Why does this work?
Numbers are adjectives. But instead of the actual value they represent, we tend to interpret numbers in headlines to suggest the relative nature or size of the noun it describes.
This headline's implied benefit doesn't change much if the number of ingredients changes to either 3 or 5. The relatively low value emphasizes that the recipe is easy. But, raise the number to 7 and the implied simplicity of the recipe slips away.
We are especially likely to over-infer quantity when asked to make a difficult, concurrent, or snap judgment, like when we're scanning different headlines.
Take a look at this article's headline:
I lost $25 million and couldn't be prouder. Here's what it taught me about following my values.
The author emphasizes the sizeable dollar amount, enticing readers who want to avoid losing money themselves or are curious about how someone loses such a large amount of money to begin with.
Use extremely small or large numbers as exaggerators.
Small numbers can suggest relative simplicity or insignificance. Conversely, large numbers can suggest complexity.
Examples
:
---
2. Use common "favorite" numbers in headlines to attract the curiosity of readers in your targeted audience
Number psychology tells us that there are common number preferences and number connotations based on gender, group, or cultures. We can leverage these findings by engaging the curiosities and emotions of our targeted readers.
No big surprise, but lucky number 7 is the most popular number used to increase click-through rates in consumer-targeted headlines. Other common favorites are odd single-digit numbers.
Buzzsumo reports that the number 5 draws a higher social media engagement rate in B2B headlines: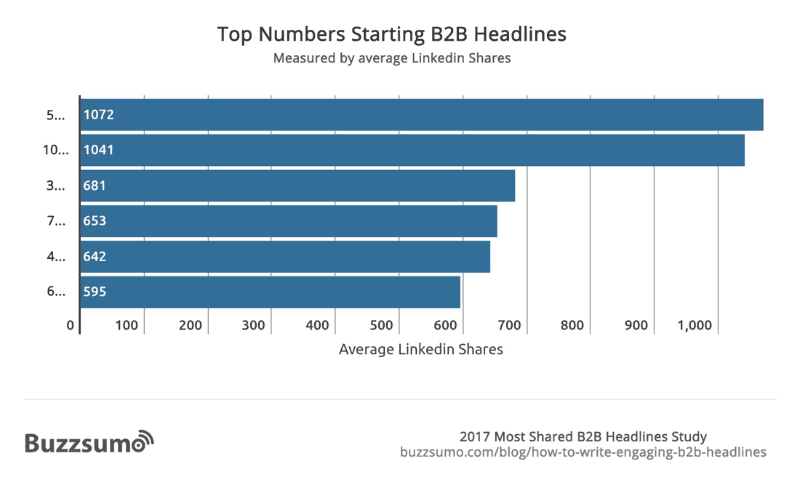 Examples
:
---
3. Use Odd Numbers in Blog Post Titles (Especially 7)
Odd numbers are more trustworthy because they suggest the content is created out of available information versus added fill-in material thrown in for balance. In short, your content appears more authentic.
Odd numbers also benefit blog post titles because even numbers create symmetry, but odd numbers create interest and are easier to remember because of this.
A casual glance at some of the top posts by blogging superstar Neil Patel confirms this: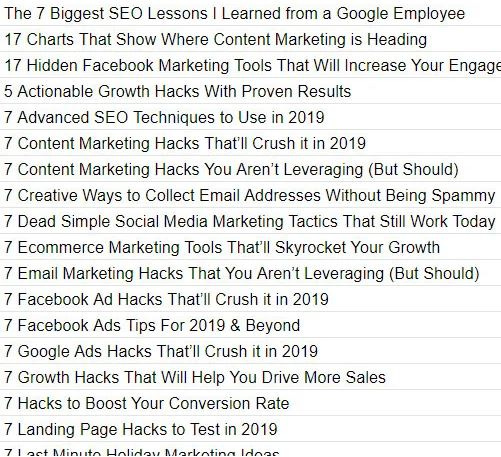 Neil favors the number seven for his lists. In fact, 37 of his 43 listicles were lists of seven (and two more were lists of 17).
So, what's the deal with the magic number seven?
According to Guy Winch, Psychology Today Contributor, there are several explanations for our love of the number seven. Six more, in fact. In Seven Reasons We Are Captivated by the Number Seven, Winch spells them out.
7 has been significant since ancient times.

7 has had significance in almost every major religion.

7 is associated with luck and magical properties.

7 matches our memory capacity.

7 fits our attention spans.

7 is a prime number.

7 is the most popular number.
Examples
:
---
4. Use Numbers in Your Headlines (And Don't Spell Them Out)
Numbers can help by providing that expectation management for us, so we know exactly what we're getting into. Those might be some of the reasons that a Conductor study found that audiences prefer number headlines to almost any other type.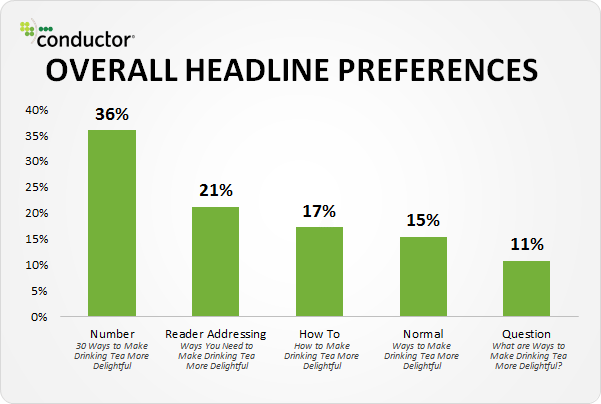 Additionally, research from Canva and Ian Cleary of Razor Social suggests that including numbers in your blog titles can double your social shares. Data from Brian Dean at Backlinko also suggests that including numbers in your blog titles can increase your clickthrough rate by 36%!
Use symbols like %, $, or digits instead of words to express percentages, dollars, or numbers in headlines.
Examples
:
---
5. Current Year
The current year in headlines implies the bonus benefit of up-to-date information.
Consider the covert power of this little number. It instantly tells the searcher the headline promises timely information inside.
However, you shouldn't just arbitrarily update years in your old article titles, as readers who see the original post date may be frustrated if they don't see brand new and current information.
However, if your content is new, current, or explains something that is not well documented online, a year can be a great use of a number in your blog post title.
Examples
:
---
Until next time!
Casey
If you found this content useful, and want to learn more about achieving success through writing online, subscribe to my newsletter. You will receive access to valuable premium articles, our custom digital downloads ($20 value), media contact lists ($200+ value), and private Slack channel, for free!
Thank you for your support! It truly means the world to me! Please let me know if you have any questions by responding in the comments section below. I will do my best to answer all of them.